Experience Miami's pinnacle of luxury and opulence with the 2020 Rolls-Royce Cullinan, available for rent at our rentals. As a masterpiece of automotive craftsmanship, the Rolls-Royce Cullinan epitomizes elegance and sophistication, elevating your driving experience to an unparalleled level. With its exquisite exterior, opulent interior, and powerful engine performance, the Cullinan will keep you riding in style and comfort throughout your Miami journey.
Whether you want to arrive in style for a night out or pick up guests from the airport, our rentals can provide you with this unique luxury ride. Our team of experienced professionals will ensure that all your needs are met and guarantee a wonderful driving experience throughout Miami. Add on an extra driver and enjoy the infotainment features of Cullinan's interior together. To turn your automotive dreams into reality, we invite you to visit our website now.
Performance Specs
High Power Engine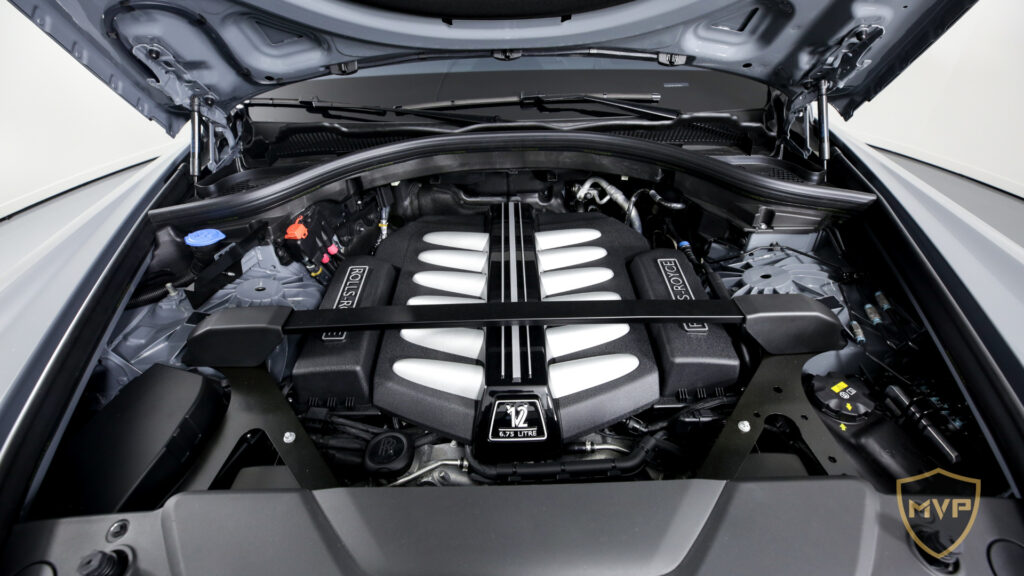 The 2020 Rolls-Royce Cullinan can be the ideal choice for you if you're searching for a high-end, high-performing rental car. This gas-powered car has a base engine capacity of 6.8 L, a V12 engine type, with an astounding 563 horsepower at 5,000 rpm and 627 lb-ft of torque at 1,600 rpm. The Cullinan is a formidable force on any road because of its 48 valves and double overhead cam (DOHC) cam type with variable valve timing. Direct injection is included as standard, ensuring that this car performs at its peak.
Drivetrain
The Cullinan's drivetrain consists of an 8-speed shiftable automatic transmission, providing smooth gear shifts for an enhanced driving experience. It also comes with an all-wheel-drive system, offering superior traction and stability in a wide variety of road conditions. The vehicle also includes a standard descent control feature, which maintains a constant speed and applies brake pressure for safe and controlled downhill driving.
Suspension
Regarding suspension, the 2020 Cullinan features a standard four-wheel independent suspension system. This setup allows each wheel to move independently, reducing body roll and enhancing ride comfort, especially over uneven surfaces. Moreover, the SUV is equipped with front and rear stabilizer bars as standard, which help maintain tire contact with the road and improve stability during turns.
The Exterior Make
Dimensions
The rental 2020 Rolls-Royce Cullinan radiates elegance and majesty from every viewpoint. The Cullinan stands out on the road thanks to its outstanding dimensions of 210 inches in length, 79 inches in width without mirrors, and 72 inches in height. The vehicle's lengthy 130-inch wheelbase improves stability and handling while also contributing to a roomy and comfortable interior.
Enhancing the Beauty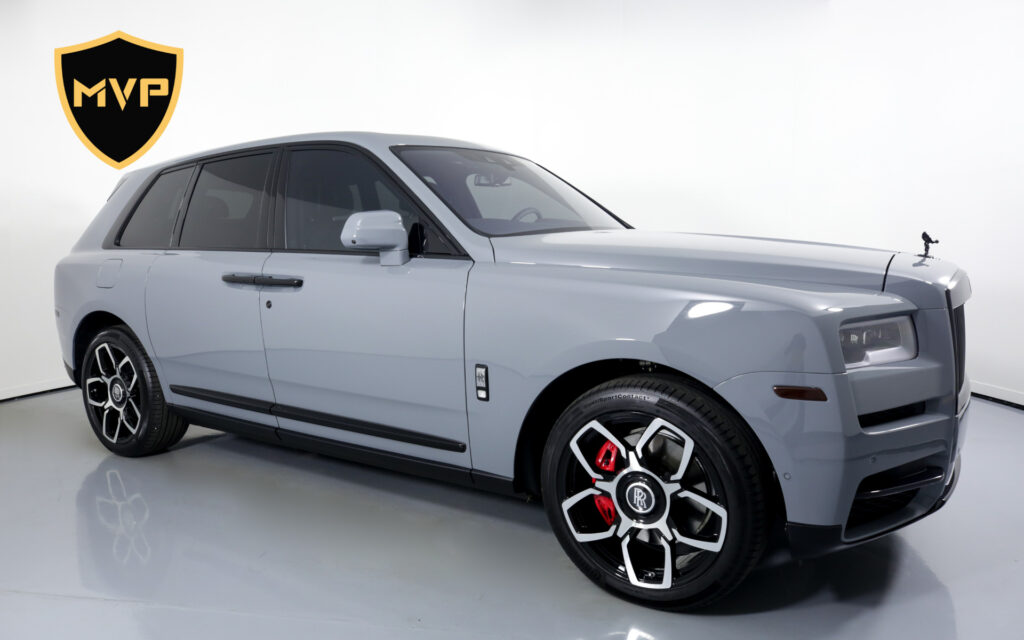 Experience the epitome of SUV elegance and sophistication with the 2020 Rolls-Royce Cullinan, now available for rent. Discover the perfect harmony of luxury and functionality with its exquisite features. Every detail has been thoughtfully designed from dusk-sensing headlights ensuring optimal visibility in any lighting condition to LED headlamps that are both long-lasting and brighter. Adaptive headlights enhance your vision around curves while self-leveling headlamps ensure nighttime safety in this extraordinary SUV. Plus, enjoy the convenience of daytime running lights, high-pressure washers, front fog/driving lights, and turn signal mirrors. Explore a world of unparalleled refinement and book your rental today.
Technology Features
The opulent SUV, the 2020 Rolls-Royce Cullinan, is loaded with cutting-edge gadgets. The Cullinan provides peace of mind with features like emergency assistance and airbag deployment alerts as standard equipment. In addition, it features a hands-free phone, trip computer, compass, and an outside temperature gauge. The hands-free entry system is convenient, and the first-row power glass extended sunroof provides a breathtaking panorama. When backing up, you can see what's happening at the curb thanks to the dual mirrors' reverse tilt feature. In addition, heated mirrors make removing frost and ice from their surfaces simple. Overall, the amazing selection of technological innovations in the rental car combines form and function.
In-Car Entertainment
When it comes to in-car entertainment, the Cullinan truly shines. It comes with a standard AM/FM stereo system that delivers a powerful output of 600 watts through 16 speakers, including two subwoofers. This setup ensures a rich and immersive audio experience throughout your journey. Additionally, the SUV offers a standard USB connection with external media control for playing your favorite music or podcasts and satellite radio with real-time traffic updates. The speed-sensitive volume control adjusts the audio volume based on the vehicle's speed, ensuring a consistent listening experience.
Convenient and Comfy Interior Space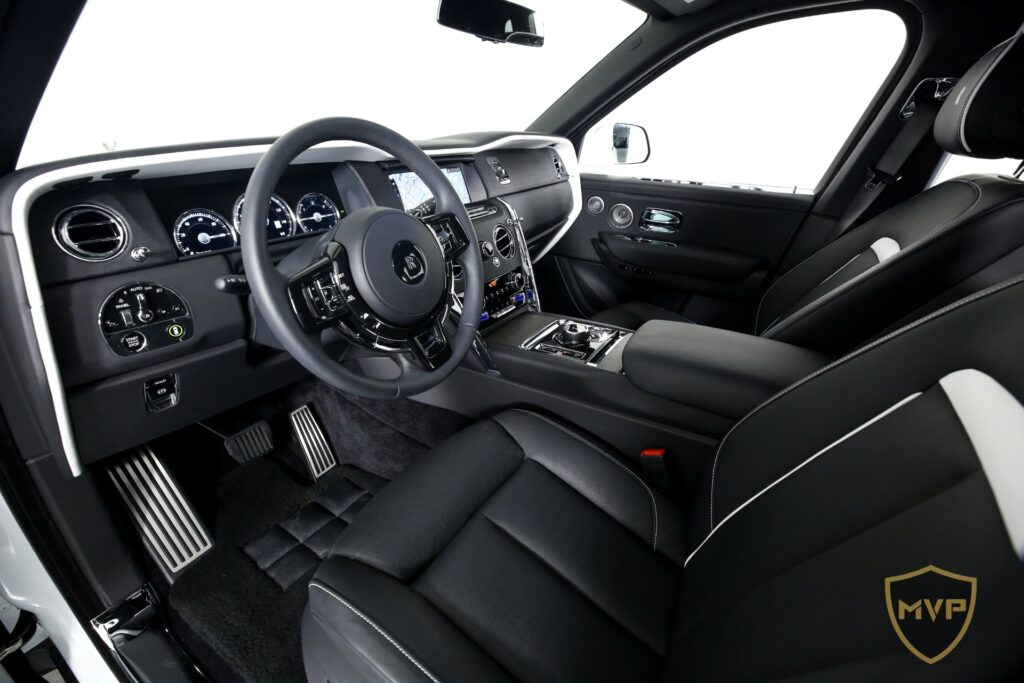 The 2020 Rolls-Royce Cullinan's cabin is luxurious and well-designed, making long trips more pleasant. Accessing and driving the Cullinan are simple tasks thanks to its keyless ignition, tilt, and telescopic steering wheel. The audio and cruise controls are conveniently situated on the steering wheel. The power steering makes for a relaxing and enjoyable drive. A leather steering wheel and shift knob, as well as cruise control and a universal remote transmitter, are among the vehicle's other standard equipment. The Cullinan provides further convenience with its heated steering wheel and dual-zone temperature control. If you value efficiency and comfort when driving, this car on rent is a good option.
Exclusively Safe to Ride
This vehicle boasts numerous safety features, ensuring a worry-free ride. Dual front side-mounted airbags and front and rear head airbags are standard, as is the pre-collision safety system. The post-collision safety system, stability control, traction control, child seat anchors, rear door child safety locks, 4-wheel ABS, and emergency braking assist are also standard. Blind spot and lane departure warnings are also included, as is an accident avoidance system. With a driver's license and the proper age, you can indulge in the ultimate rental Rolls-Royce experience, knowing that safety is a top priority in this luxury vehicle.
Enjoy the Roads of Miami in Cullinan on Rent
In conclusion, the 2020 Rolls-Royce Cullinan offers luxury and superior levels of craftsmanship combined with impeccable performance specs. With its distinguished opulence that features a stylish exterior and technological components, riding in one of these luxurious vehicles is like no other experience. It provides comfortable and convenient interior spaces to enjoy and has state-of-the-art safety features for when you're out on the roads of Miami. Make memories with a ride that will last forever by renting a 2020 Cullinan from MVP Miami today! Visit us or book your rental car online and explore Miami in style without limits.