2015 AUDI RS7
Price starts at: $399
Year: 2015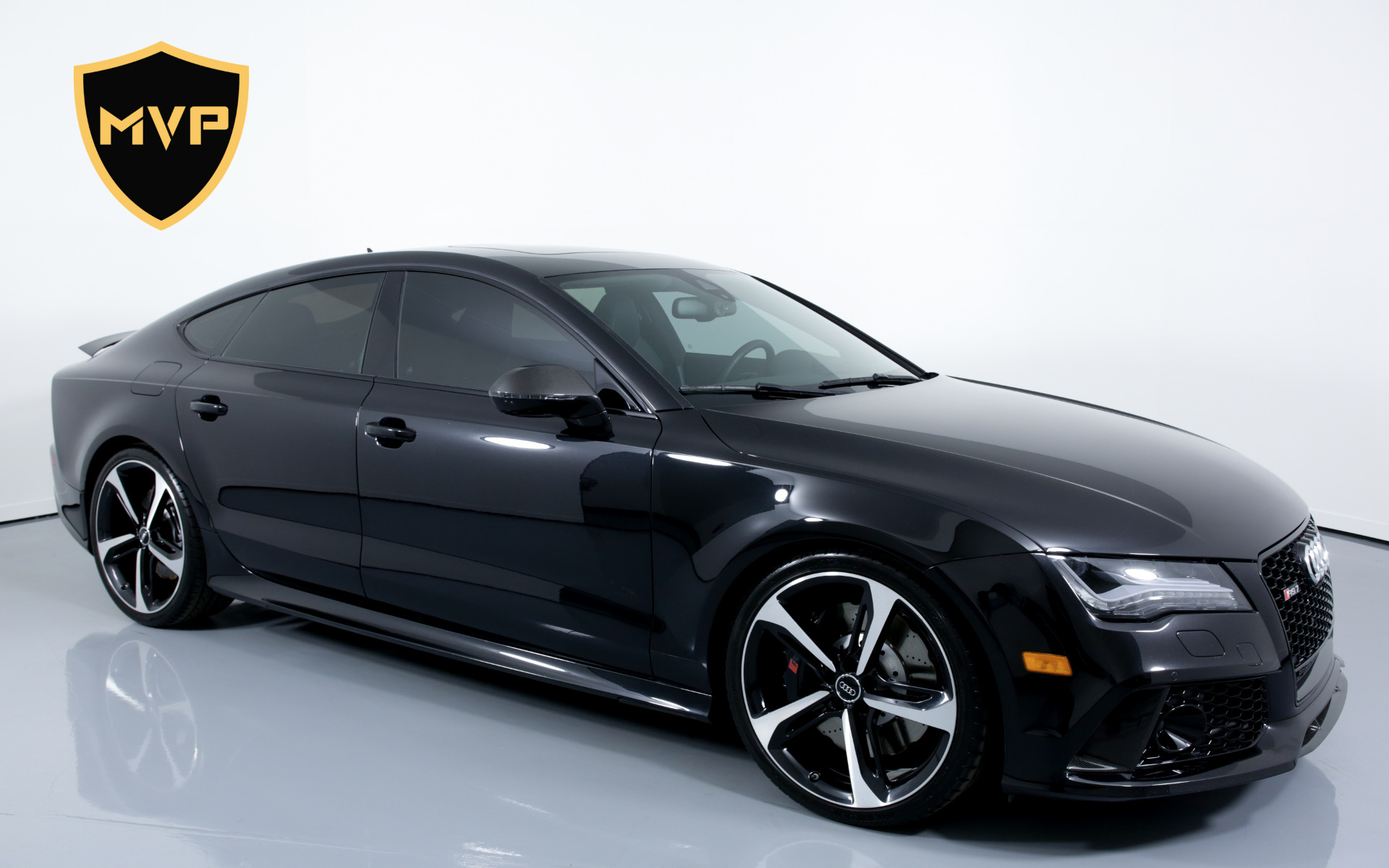 Photos

786.877.4317

Details
2015 AUDI RS7

| | |
| --- | --- |
| make | AUDI |
| model | RS7 |
| Body | COUPE |
| Trans | Automatic |
| | |
| --- | --- |
| EXT COLOR | Matte Black |
| INT COLOR | Black |
Description
Overview
With a sleek, fastback body, 20-inch wheels and aggressive styling mods, the RS7 could get by on looks alonebut as an RS model, thats not necessary. This bahn-burner packs a spectacular twin-turbo 4.0-liter V-8 that makes 560 hp, a performance-tuned eight-speed automatic, all-wheel drive, and a lowered suspension. For more power, the RS7 Performance makes 605 hp. While the six-figure price tag is not cheap, the RS7 is as close as it gets to an R8 supercar with four doors and a hatch.
Few would call ​the 560-hp Audi RS7​ underpowered. Yet Audi still felt it necessary to breathe more grunt into the RS7s twin-turbocharged 4.0-liter V-8 engine. Dubbed the Audi rental RS7 Performance, the 605-hp model was introduced last year. Its extra power comes courtesy of a new turbocharger design, more efficient intercooler heat exchangers, a reprogrammed engine computer, and revised camshafts that activate new exhaust valves. A maximum of 553 lb-ft of torque is available from 2500 rpm to 5500 rpm in a temporary overboost mode. Normally, the engine makes 516 lb-ft at 1750 rpm and rides a wave that peaks at 6000 rpm500 rpm higher than the standard cars peak and only 800 rpm short of redline.
Unleashing all 605 horses requires that the cars driving mode be in the Dynamic setting or that the eight-speed automatic transmissions Sport or Manual mode be selected. In the latter mode, the driver can swap cogs by pushing and pulling on the shift lever or by pulling on the big but brittle-feeling steering-wheel-mounted paddles. Switch to the Comfort or Auto driving modes and place the transmission in its default setting, though, and the RS7 Performances engine opens the gate for only the basic-spec 560 horses.
Mashing on the left pedal resulted in the Performances standard carbon-ceramic brakes bringing the car to a halt from 70 mph in 160 feet, 11 more than Porsche Panamera Turbo and 17 feet greater than the distance recorded in the RS7 we tested previously. On our 300-foot skidpad, the Continental ContiSportContact 5P summer tires helped the all-wheel-drive hatchback cling to pavement to the tune of 0.94 g
In the Money
Design-wise, the $150,450 RS7 Performance differs little from the $111,650 RS7. Both cars wear the same aggressive front and rear fascias. However, the Performance sports black surrounds for the grille, windows, and exhaust outlets, as well as carbon-fiber trim on its front and rear splitters, lower front air intakes, and mirror caps. Check the right boxes, though, and the standard RS7 can be decked out in a nearly identical scheme, at a cost of $5500. In any event, the RS7 Performance is a beautiful car, its fastback shape and pinched side glass serving as an elegant complement to the cars audacious RS-specific bodywork. Our test cars $1075 coat of Panther Black Crystal Effect paint made it all the more striking.
Included
Band & Olufsen Advanced Sound System
Dynamic Package $5500
Driver Assistance Package
21" 5-Spoke Blade-Design Wheels
Gloss-Black Finish
Milltek Exhaust
Milltek Mufflers
Sport Suspension with Dynamic Ride Control
Dynamic Steering
Red Front and Rear Brake Calipers
Sport Exhuast with Black Finishers
Audi Adaptive Cruise Control w/ Stop & Go
Audi Pre Sense Plus
Audi Active Lane Assist
Corner View Camera System
Navigation System
Sirius Satellite Radio
Vehicles are scheduled for 10 am pickup and due back at 10 am. However, depending on demand and scheduling, a grace period for return or early pickup may be an option as well as billed hourly.