2018 ROLLS ROYCE DAWN
Price starts at: $1,299
Year: 2018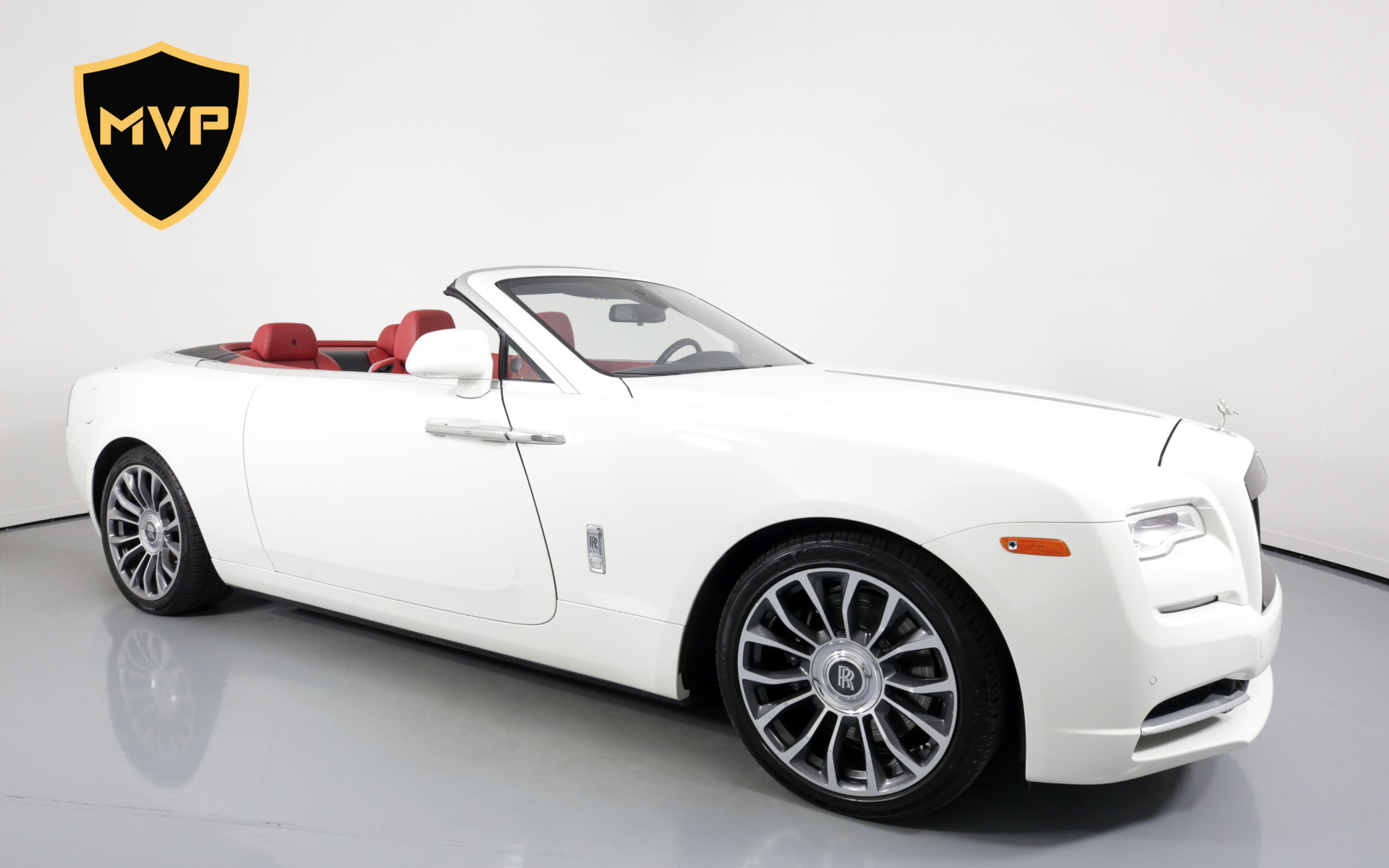 Photos

786.877.4317

Details
2018 ROLLS ROYCE DAWN

| | |
| --- | --- |
| Prices Starting At: | $1,299 |
| | |
| --- | --- |
| make | ROLLS ROYCE |
| model | DAWN |
| Body | CONVERTIBLE |
| Trans | AUTOMATIC |
| | |
| --- | --- |
| EXT COLOR | White |
| INT COLOR | Red |
Description
Overview
Luxurious, exclusive, exquisite . . . take your pick of adjectives for the lovely Dawn and any one of them will suffice. With the bones of a Wraith coupe, the Dawn has sheetmetal that curves and swoops, making itaccording to Rollsthe sexiest Rolls-Royce ever built. Inside there is room for four adult passengers; occupants will be dazzled by the gorgeous leather and acres of real wood trim. Under the hood is a 6.6-liter twin-turbo V-12 that makes 563 hp, so the Dawn is as fleet as it is sexy.
The ​Rolls-Royce Dawn​ rental is most at home cruising the glittering boulevards of Miami beach or Palm Beach, the Siriusly Sinatra channel permanently playing, and the driver wearing $2600 Gucci crocodile loafers while contemplating how to cajole public financing for his new NFL stadium. Unlike, say, the similarly pricey ​Lambor​ghini Aventador​, the Dawn can be driven and used every day. It clears curbs, theres some room in the trunk, there is a trunk, and its easy to get in and out of. It also doesnt invite a race at every stoplight, though it may invite people of all races to spontaneously come up to the window and quote ​Bernie Sanders. Alas, first-world problems.
The Dawn rental earns its copious allocation of asphalt by adding mechanical substance and harmony to exquisite design and detail. Its not a basket of latter-day tricks; its not compatible with Apple CarPlay, and theres no onboard Wi-Fi. At $402,300 as tested, including a $2750 destination charge and a $2100 gas-guzzler tax, the Dawn is slightly old school, like its future owners.
At a glance, the Dawn is a decapitated ​Wraith coupe​, but Rolls says 80 percent of the body panels are unique to the new car. Top up, it has a spec​tacu​lar raked profile, and a gorgeous sailing-sloop silhouette when the six-layer cloth top is down. With its recessed grille, it looks fantastic from the front whether you choose to keep the Flying Lady ornament deployed or, as is allowed by a function in the center-console screen, hidden away below a trapdoor. From the rear, well, the car is not quite as distinctively stately.
It rides on the same 122.5-inch wheelbase as the Wraith rental and is only slightly longer overall. The pair shares basic suspension, drivetrain, and structural elements, with the core engineering derived from a previous-generation BMW 7-series. From a performance standpoint, the difference is that the hardtop Wraith is about 400 pounds lighter and pushes its mass around with 624 horsepower from its BMW-built twin-turbo 6.6-liter V-12. The 5776-pound Dawns similar V-12 is tuned to just 563 horsepower.
The Dawn rental Miami is enormous, but more than a foot shorter overall than the discontinued ​Phantom Drophead Coup​ it effectively replaces. In compensation, the Dawn is more graceful, more at ease in traffic, and less likely to goad the peasantry toward fiery insurrection. Its also surprisingly roomier than the Coup.
Of course the Dawns interior uses leather from cows apparently raised on a diet of butter, and the stitching is exquisite. The glossy wood trim chosen for our test car was perfectly matched. The simple instrumentation, which uses what look like tiny sterling-silver sugar spoons for pointers, includes a Power Reserve gauge in lieu of a tachometer. Theres room for four full-size people to repose in comfort.
Enter through the massive rear-hinged, power-closing doors, and the Dawn seems almost human scale. Its tough to tell which switches are plastic and which are metal, but all work with straightforward ease. Even the Spirit of Ecstasy Rotary Controller that navigates through the menus on the 10.3-inch LED screen operates perilously close to intuitively, no doubt because with just a few changes to the graphics, its actually BMWs infotainment system. Our test car had the optional radar-based cruise control and lane-departure warning aboard; blind-spot monitoring is not available on the Dawn.
Included
Front Massage Seats
Lambswool Footmats
RR Inlays to Monitor Lid
Treadplates Dawn
Comfort Entry System
High-Beam Assitance
Lane Departure Warning
Heads Up Display
Night Vision
Drivers Assistance
Camera System
Chromed Visible Exhausts
Navigation System
Sirius Satellite Radio
Bluetooth System
Vehicles are scheduled for 10 am pickup and due back at 10 am. However, depending on demand and scheduling, a grace period for return or early pickup may be an option as well as billed hourly.